by
{Don't forget to enter to win a PDF copy of the Veggie Queen's latest book, The New Fast Food!  It's the perfect resource for both new and experience pressure cooker chefs!  Contest closes June 7th.}
Have you ever come across a recipe that you suddenly have to make right now?  No matter what else you had planned, no matter what other recipes you'd been eying, this one takes precedent the moment you see it.
I'm not sure what it was about the Orange Quinoa with Black Beans from the Forks Over Knives
cookbook that caught my attention this way, but there was just something about it that demanded it be made and eaten as soon as possible.
Thinking about it now, I'm pretty sure it was the combination of black beans and orange that struck my fancy.  One of the characteristics of recipes in the Forks Over Knives book is that, when they call for citrus, it's always fresh.  No funny bottled juices with crazy preservatives!  I did wind up cheating and using orange juice from a carton since the oranges I buy are marked for eating the second they hit my shopping cart, but I saved the rind from my morning snack for the necessary zest.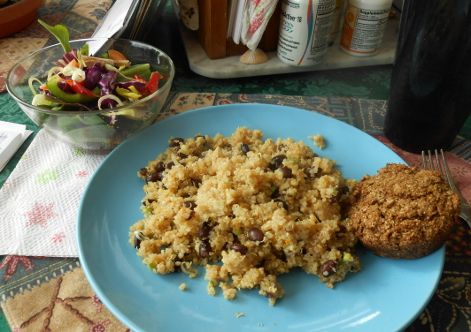 This is a great recipe for busy nights or to share with people who claim that they don't have the time to eat healthy.  Everything comes together in the time it takes the quinoa to cook.  The only prep work involved is grating a little ginger, zesting an orange and slicing a few green onions.  It's filling enough for dinner but easy enough to make for lunch no matter what your schedule is like.  In fact, before deciding on trying it out as a dinner entree, I toyed with the idea of having some for lunch along with a salad.
I did, in fact, serve it with salad for dinner, along with some bran muffins left over from a batch I'd made the day before.  (You'd think bran would be more of a breakfast thing, but it went with everything oddly well.)  The quinoa had a light, simple flavor that only needed a little extra pepper to be just right.  There's even some balsamic vinegar  mixed  in.  It didn't stand out as a flavor, but it lent enough to the overall dish that I think you'd notice if it wasn't there.
Though I like my dinners hot (unless it's blistering outside!), I think you could easily serve this cold, maybe on a bed of arugula, or take a big bowl of it to a summer potluck.  There's really nothing in it that a group could argue with, and it's not too "scary" or fancy to work as an introduction to plant-based food if that's what you were going for.  It also won't go funny like most omni picnic food, so it's great for summer!
If you could get it to the potluck without eating it all first, that is.  Because it is that good.
What's your favorite fresh fruit or fruit juice to add to dinner entrees?