by
Have I mentioned that my area recently got its very own Trader Joe's?  Rumor after rumor circulated until finally, this past August, one appeared in Colonie, NY not far from the mall where I routinely visit Barnes & Noble to buy things I don't need.  Trader Joe's is also a great place to do that, which is how I wound up with a package of vegan chorizo after my maiden voyage to the new location.
You know how it goes.  You see something on a store shelf that you've never seen before and wonder what it tastes like.  You know you've seen it mentioned in recipes, but you're not sure what to make with it.  But, gosh darn it, it's on sale, and you just have to try it.  So into the cart it goes with the more recognizable things, like shredded wheat and strawberries.  When you get home, it gets dumped in the fridge or freezer and promptly forgotten about for months.
Poor chorizo.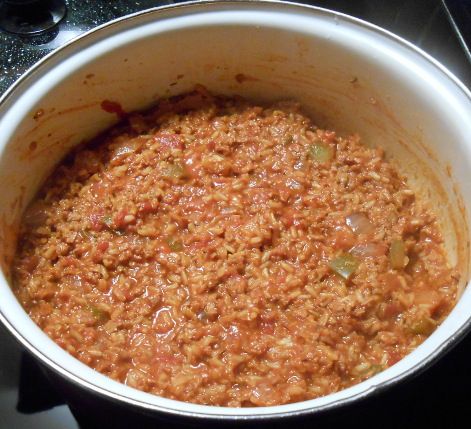 Part of the reason it sat in my freezer for so long was that, like most packaged vegan "meats," TJ's chorizo has rather a lot of salt and fat.  Most packaged foods count as "sometimes food" (or "very rarely if ever" food!) in the QV household, though, so I don't feel bad using them once and a while provided they're not full of unpronounceable ingredients.  When I did finally break the chorizo out of the freezer, I did my usual browse around the Internet to find a tasty recipe.  After searching several non-vegan sites and looking for things that could be veganized, I stumbled upon Spanish Rice Spiked with Soy Chorizo.
As I do with all rice recipes, I used brown rice instead of regular.  I also added extra peppers and onions, increasing each to about 1 cup.  Overall it was a pretty simple recipe, cooked in a way that combined all the flavors together in one big pot.  I discovered you can't really slice the chorizo like it says to, though.  Once you cut the casing open, it sort of splorts out in chunks and crumbles.  It's a little weird, and some people might find it a bit gross, but it smells good enough that it isn't a problem!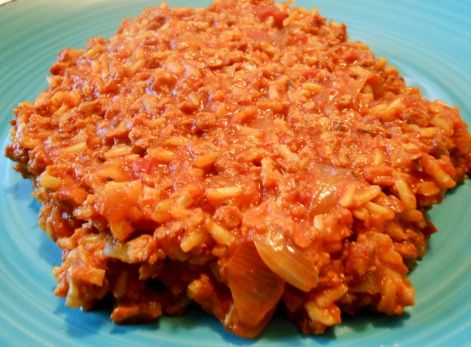 The only thing I didn't like about this recipe is that the final product reminded me of dog food in appearance.  It wasn't bad enough to be off-putting, but it's definitely not a pretty meal.  The prevailing colors were yellow and red, which isn't surprising given the rather vibrant color of the chorizo itself.  However, it's well worth it to get past the weird appearance.  This was very, very good!  The chorizo is well spiced and although the rice didn't get quite as tender as I'm used to, it soaked up a lot of the flavor.  All it needed to make a complete meal was a simple green side, so out came one of the copious bags of frozen zucchini from our garden.  Zucchini goes pretty well with spicy or tomatoey dishes, and this was no exception.  A plain green salad would have been good, too.
I'd call this another success from the vast store of tasty veg recipes across the Internet.  And a successful impulse purchase as well!  Due to the fat and salt, I won't be buying more chorizo any time soon, but I'll keep it in mind as a go-to for quick meals.
I have to ask: what's your favorite Trader Joe's product?  How did you first come upon it, and what did you use it for?